Welcome to The Prophet Kwaku's website

Comedian - Presenter - Actor - TV Warm Up - Writer

Known as The Prophet Kwaku, a title given to him by listeners, who had tuned into his popular radio talk show that he co-hosted from 1994/ 2008 on Powerjam 92fm.

After Powerjam was shut down Kwaku was invited by other popular radio stations as a guest speaker.

Kwaku is not just a talk show host he is also a voluntary teacher for supplementary school for Afrikan children l which he has been a part of since its inception in 1992.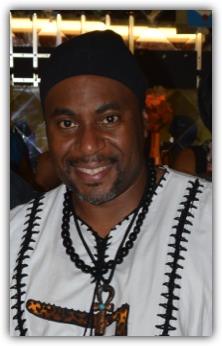 Kwaku's
extensive knowledge of Afrikan history has enabled him to be invited to lecture in numerous universities in England. Yet that is not the totality of the Prophet he is a Well-known stand up Edutainer on the Afrikan comedy circuit in England.
Kwaku
rather to call himself an Edutainer rather than comedian because of the way he as the ability to infuse his humour with material that is side splitting reality information.

Prophet Kwaku's introduction to the comedy world was unlike most comedians, while part of an audience at a talent show in Jongleurs Clapham junction in 1994. He was singled ou of the audience by the host of who thought he was being heckled by Kwaku. Prophet Kwaku rose to the occasion took on the host, this led to the host leaving the stage, this was Prophet Kwaku's first ever set. What makes Prophet Kwaku unique, is his ability to adlib like a storyteller keeping most of his performance current at all times.